Our Gaments
Kurtz Clothiers is an artisanal, heritage apparel company based in New South Wales, Australia. We produce Tiny Pipe Brand garments. Echidna Overalls, our rugged workwear offering, will launch soon.
Every Kurtz product is available only in extremely limited quantities and hand made in our Australian workshop. As hand made, artisanal garments, no two of our shirts are exactly identical, while retaining aesthetic integrity. These variations are a hallmark of a hand made garment, and set us apart from the usual run of factory-produced identikit garments. We aim to produce interesting and recognisable garments. We want people to recognise that you are wearing not just a cool shirt, but that it is a Kurtz shirt.
Our products are unapologetically inspired by vintage clothing from the Victorian era up to the 1950s. We believe in the production values of a bygone age. Nothing we produce for sale will involve any synthetic fabrics or threads. Only pure natural materials such as cotton, linen, rayon or wool, will be used.
A vintage shirt produced today is only as good as the pattern, fabric and trimmings that are used in its manufacture. We have an archive of vintage shirt patterns and patents on which to draw, and we scour the globe for vintage fabric and buttons to use.
Our History
Kurtz Clothiers grew from the passion for vintage clothing of our founder and creative director, Pete Cormie. Pete is a vintage clothing collector of international repute, interacting with the internet vintage world as "Baron Kurtz" on The Fedora Lounge and through his blog, www.baronkurtzvintage.wordpress.com.
From small beginnings hunting for vintage western shirts and khaki drill in the mid 90s in Edinburgh and Aberdeen, Pete spent almost 7 years trawling Midwestern thrift stores and estate sales, and a futher ten years based in London, and collecting throughout Europe. With our relocation to Australia, a new era of Kurtz Clothiers vintage collecting and garment production has begun!
We have mined deeply into the Kurtz Archive of vintage shirts to select the features to include. We have searched the world for vintage fabrics and buttons. We believe we have produced a shirt that is both true to the aesthetic and integrity of the vintage era (circa 1940), and a modern, stylish garment. Equally at home worn with a modern or vintage outfit, the Type I shirt will fit into any wardrobe.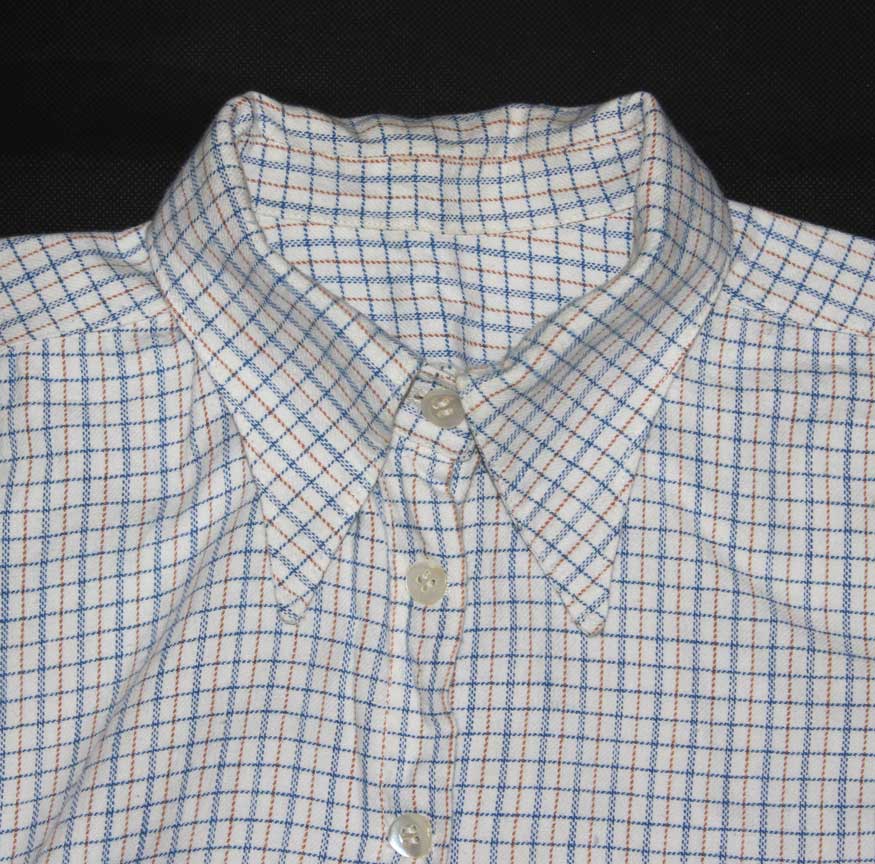 A small selection of British 1930s-40s shirt collars in the Kurtz Clothiers Archive, along with a Kurtz Clothiers Type I shirt collar for comparison.
Our Values
Never Compromise! Our motto, and the code we live by at Kurtz Clothiers. We'll never compromise on fabric, on patterns, on buttons or thread. Unless it meets our exacting standards, we won't use it. We won't try to cut corners, or shave a few cents off production costs, if it involves compromise of our values. This means we can produce garments that look exactly how we want, in fabrics that meet our standards. All too often working with garment factories means compromise: Compromise on cloth; compromise on patterns; compromise on thread ... Never Compromise!
We care deeply about human rights, and in the garment industry workers' rights and welfare standards are a huge and ongoing concern. Never Compromise! Every Kurtz garment is produced in-house, by hand, in Australia - we don't outsource. From concept and design, to pattern drafting to making and packaging, we do it all here.
There is too much waste in the world. You might be shocked by how much fabric is being produced that ends up sitting forlorn in the back of a warehouse. All that effort, resources, and energy. All to nothing. We believe in using up old bolts of cloth that have been produced and would otherwise be wasted. We select the best vintage and high quality modern production fabrics, either from cloth dealers, or from individuals. We take the same approach to scouring the planet for boxes of old buttons, and buckles, and zippers, and just about any other thing you can imagine would be used to make clothing. We are always interested in buying significant quantities of old cloth and pre-1950s haberdashery, wherever they are in the world.
Do you have some vintage cloth, buttons, zippers etc. you want to sell? Contact us at:
petecormie [at] kurtzclothiers.com